Note: this is the fourth installment in my own version of #52ancestors where geneabloggers have been asked to write about a different ancestor every week for a year. To understand the concept, read my blog entry from January 19, 2014.
My April Ancestor as part of my 12 Months, 12 Ancestors project is Ada Elizabeth Woolgar.
Woolgar.
What kind of bad ass name is that?
My great grandmother Ada Elizabeth Woolgar came from England. In England, the name goes back to the Doomsday Books, or so it says here:
WOOLGAR, or rather the original spellings of Wulfgar, Wlgar and Vlgar, is a Saxon name meaning 'wolf-spear'. According to "A Dictionary of English Surnames" by P. H. Reaney & R. M. Wilson (Pub Routledge 1991 ISBN 041505737X), the earliest references to WOOLGAR are:
Domesday 1086 in Sussex and Hampshire
Wlfgarus de Cokesale 1252 in Colchester, Essex (Cartularium Monasterii S. Joh. Bapt. de Colecestria)
Brixi Wulgar 1188 (Pipe Rolls, Norfolk)
Teobald Wolgar 1250 Cambridge (Cartularium Monasterii Rameseia)
How amazingly awesome is that?
From tales I have been told, my great grandmother Ada was a strong woman. She was tall, well at least taller than her husband Charles. She was born in April 6, 1884 in the hamlet of Hersham, in Chertsey County, Surrey, England. She was the youngest child to Richard Woolgar and Esther Cannon and by the age of 8 had received a bible from her uncle. She kept this bible for her entire life and used it to record major milestones in her life from her marriage, to coming to Canada and the birth of all 13 of her children and even some of her grandchildren.
According to her bible, Ada Woolgar married Charles Edmond Hill on September 1st, 1900 in Pyrford, village also in Surrey. She was 16 years old at the time of their marriage. Young for our time, but not back then. By 1901, Ada and Charles were living in Long Ditton, Surrey, England in little place called "Moon's Cottage." Something about this place draws me in every time. I want to go there and find Moon's Cottage. I want to see where it was Charles and Ada lived when first married, and where they started their family.
In 1908, with Kate, Albert, little Charlie and baby Lily in tow, Charles and Ada packed it in and made their way to Canada. On the ships manifest she is listed as "wife" and no other occupation has been listed for her in any of the census records I've been able to uncover. However, family lore has indicated she was a midwife. I have been told they were allowed to come to Canada despite my great-grandfather having a hump on his back because of her much needed skill. However, I haven't been able to substantiate this. As British citizens, they should have been able to travel anywhere in the dominion without any issue.
The Hill family settled in the Eramosa township area of Wellington County, Ontario, Canada. They rented a farm and had horses and chickens and grew their own food. From what I have been told, Ada was the backbone of the family and worked as hard or harder than anyone else . She doted on her children, in particular her youngest "Eddie" whom became one of my favourite great-uncles even though he lived in Manitoba and we would only see him once a year.
Ada died in 1962 and was buried in Johnston Cemetery, Eramosa Township, Wellington, County, Ontario, Canada. With incredible luck, I found her funeral card while visiting my Great-Aunt Margaret. The font is pure 60's and the card was in fantastic shape. Here is a breakdown of the details:
In Memory of Mrs. Charles E. Hill
Passed Away
At the Palmerston Hospital on Wednesday October 17, 1962
Ada Elizabeth Woolgar
Widow of the late Charles Edmund Hill in her 81st year.
The Funeral
Resting at the Hardy Funeral Home, Harriston, on Thursday, then to McIntyre and Wilkie Funeral Home, Guelph on Friday where funeral service will be held on Saturday, October 20, at 2:00 pm. Internment in the Johnston Cemetery, Eramosa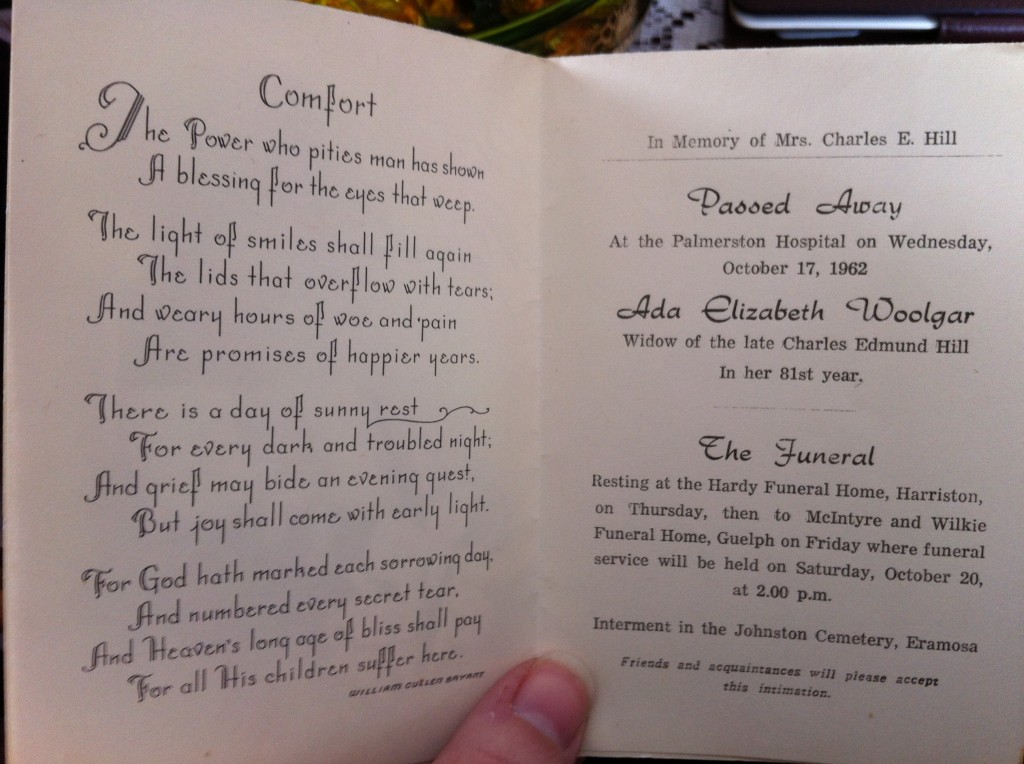 Ada Elizabeth Woogar Hill is to me someone who I would like to have gotten to know. She could be tough when needed, but also had a good sense of humour and supported her own. I've been told my sister Heather resembles her in height, looks and attitude. I think this is a fantastic compliment.