Note: this is the sixth installment in my own version of #52ancestors where geneabloggers have been asked to write about a different ancestor every week for a year. To understand the concept, read my blog entry from January 19, 2014.
Awake before anyone really should be, I decided to browse through my favourite website ancestry.ca before getting ready for work. Lo and behold I found a little leaf shaking on my tree where a leaf hadn't been shaking for a long time. Eureka! A potential find!
James Noah Lovejoy
As the first of his line to come to Canada, I already had a soft spot for this Englishman-com-Hamiltonian. Here's how I'm related to James Noah Lovejoy:
Corina Hill Harris (Me)
Elizabeth Marlene Hill (Mother)
Elizabeth (Betty) Mae Lovejoy (Grandmother)
Victor Wilfred Lovejoy (Great-Grandfather)
Franklin William Lovejoy (2x Great-Grandfather)
James Noah Lovejoy (3x Great-Grandfather)
He was born in the parish of St. James Norland in the county of Middlesex and was baptized on October 25, 1857. Through the baptismal certificate I could see his parents names as Thomas and Harriet Lovejoy but being not from England, a little more research is required.
I don't know about you but I always need to look things up when I find a place. I feel an innate need to actually understand where I came from, not just who I came from. So I turned to the trusty Google and began searching for the church. Google brought me upon this record from familysearch.org that outlined what the church is and how it has changed after amalgamating. In searching for the two names of St Clement and St James, I found this tidbit on the church website:
A listed Grade II National Heritage building, St James's Church (1845) stands impressively at the centre of St James's Gardens, at the Holland Park end of the parish. The spacious and majestic interior, beautifully illuminated by the original stained glass windows, enhances a reverent but unfussy approach to the Eucharist.

The outstanding church organ is highly valued by the congregation, as well as a variety of orchestras and other music projects which practice and perform in the church.
That of course brought me to Google maps to try and find the location. The church of St Clement and St James is located in London, England near Norland's Square and Notting Hill. The church is stunning to see but it wasn't why I was looking up my 3x great grandfather James Noah Lovejoy.
The leaf shaking on my tree was for the opposite of a baptism – his death certificate. I had known that he had traveled to Canada on the Medway back in 1872 at the age of 15. It was only fitting that he would settle just down the road from me in Hamilton, Ontario. He married Elizabeth Mepham and she was the witness on his death certificate.
James died of influenza on March 26, 1932. He had been sick for 17 days but there were some other complications including nephitis (inflammation of the kidneys) and something ineligible to my untrained eye.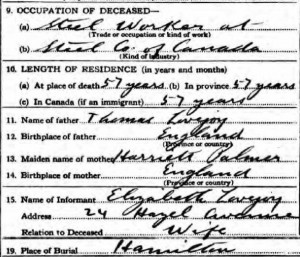 He and his wife Elizabeth lived on 24 Hazel Avenue, Hamilton, Wentworth, Ontario and had for 54 years.
His parents are listed as Thomas Lovejoy and Harriet Palmer. Harriet's last name had been eluding me until this one document unlocked the key to a future search.
His occupation is listed as Steel Worker at Steel Co Canada. (Could this has contributed to his health ailments and his death?)
He was buried in the Hamilton Cemetery on March 28, 1932.
Knowing how much I love looking things up online, this caused me to turn to all the Cemetery Finding Aids I could. I did find his name listed here as being located in the Hamilton Cemetery, Church of the Ascension-D, but thus far haven't been able to locate a head stone through all of my many searches.
I will keep looking, and it may involve my very own head stone research. After all, it isn't every day you locate your 3x great grandfather, and the first of his line to come to Canada.