Canadian family history enthusiasts were a buzz on June 1, 2023 when the 1931 Census became public. Let's face it, so was I. In the days leading up to it being indexed I could feel a little bubbling under the surface.
Census records are a huge deal. They are a snapshot in time that shows where someone lived, who they lived with, what their ages are, education level, marital status. It will often indicate where someone was born, along with both of their parents. It will tell you what year someone emigrated to the country, what languages they speak and their occupation. I find them fascinating.
There has been a huge jump in technology since the 1921 census was released. 10 years ago the 1921 census took months of people painstakingly going through every record trying to decipher what was written. This year, Ancestry believes they'll have it indexed within a couple weeks.
But was I going to wait a few weeks? No. No I wasn't.
Searching the 1931 census
I've been logging in every night to check Waterloo Region first. I was hoping to find my father's mother – Margaret Porter along with her parents. I knew from other records I have that they had lived in the city of Galt and just outside the village of Hespeler during different periods. I started my focus there.
Galt had 14 different sub districts, each with approximately 22 pages of names. Each page has around 50 names. I decided to start there. I looked for common names in my family that lived in the area: Porter, Dryden, Hyde. I didn't find any Porter family but I did find some of my extended cousins on the Dryden side, and a great-uncle on the Hyde side that was living as a boarder.
I didn't let that hold me back and quickly found myself going through Hespeler. It was much smaller with only 3 sub districts. Saw some last names I recognized, but none of my direct relatives.
Next I went through page by page for North Dumfries – as I know that I have Dryden's that lived in North Dumfries over generations. Found one or two, but they weren't my direct relatives and there weren't any Porter's.
A Hill is coming
On a whim, I logged into the South Dumfries 1931 census. I went through the first sub-district and didn't find anyone. Then opened the second one. I scanned line by line and then saw a familiar name on line 49 of page four.
Hill, Albert, hired help, Male, Single, Aged 29, he and both of his parents listed as born in England. He emigrated to Canada in what could be 1906 or 1908. His citizenship is listed as Canada, nationality English, religion Anglican. He states he can read and write English. His occupation is farm laborer on a general farm. His class of worker is "W" and he made $350 in the past 12 months. They even verified that he was at work on June 1, 1931.
Hmmm…. Albert Hill is the name of my grandfather. The information matches. I wonder if he came to South Dumfries to find work on Archie Ferguson's farm? The farmhouse is a single detached home made of brick veneer. It has 9 rooms and they even have a radio according to the census.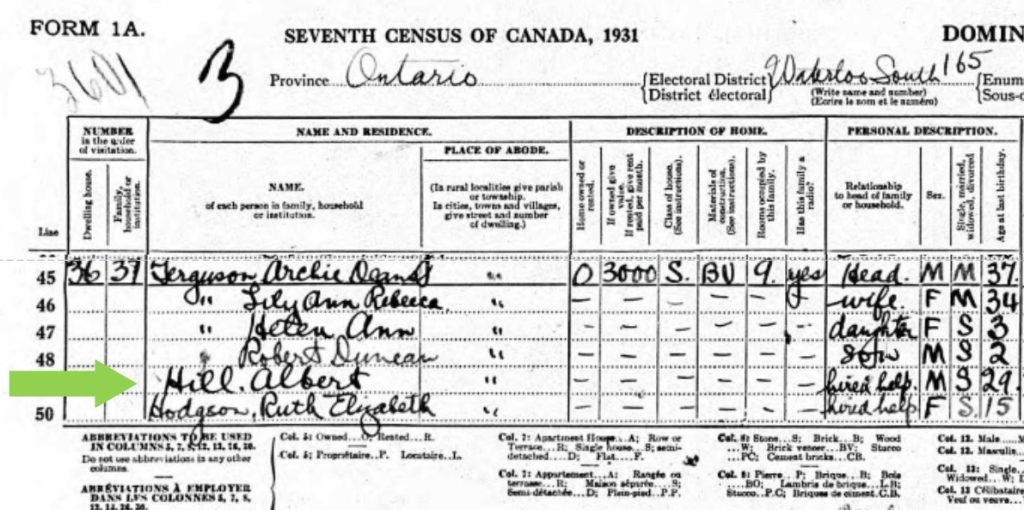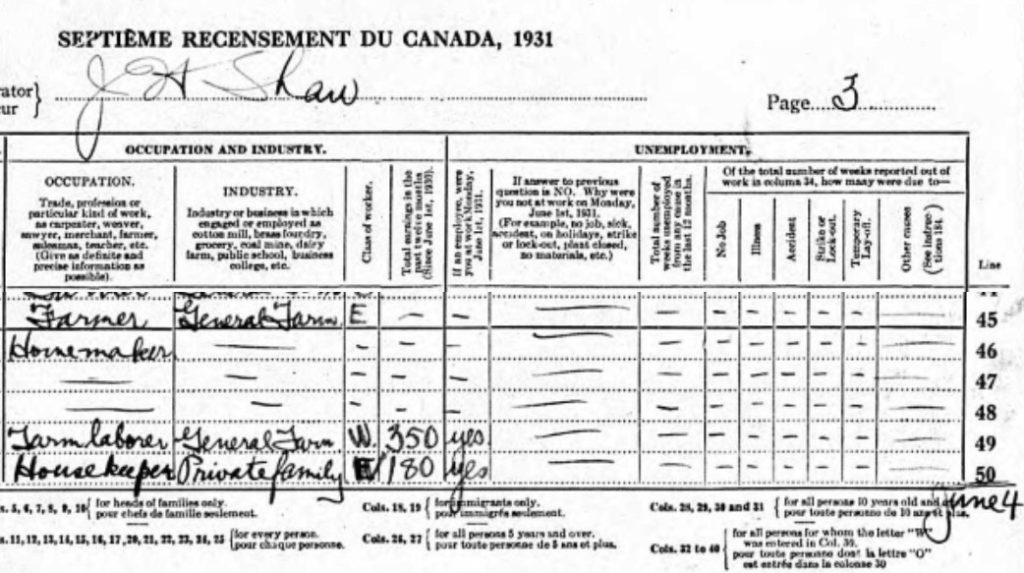 I flagged it as a document under Albert Hill and decided to look further onto the next page.
Picking out the Porters
Imagine my surprise when I found my grandmother, her twin brother and their parents only 9 houses away from Albert!
My grandmother Margaret and her brother Walter Porter were both 13 at the time of the census. They are students, who upload the Presbyterian faith. Their home is a single detached home with 9 rooms made of wood. The home does not have a radio but it has been valued at 2000.
My 56-year-old great-grandfather William (which I wrote about here and here) has a father born in England and a mother born in Ontario. He can read and write English, not French and works as a Farmer on a general farm that he owns.
My 46-year-old great grandmother Margaret (Maggie) is a homemaker at this time. Both her parents were born in Ontario, as was she. Her racial origin is listed as "Scotch" but she is a Canadian citizen.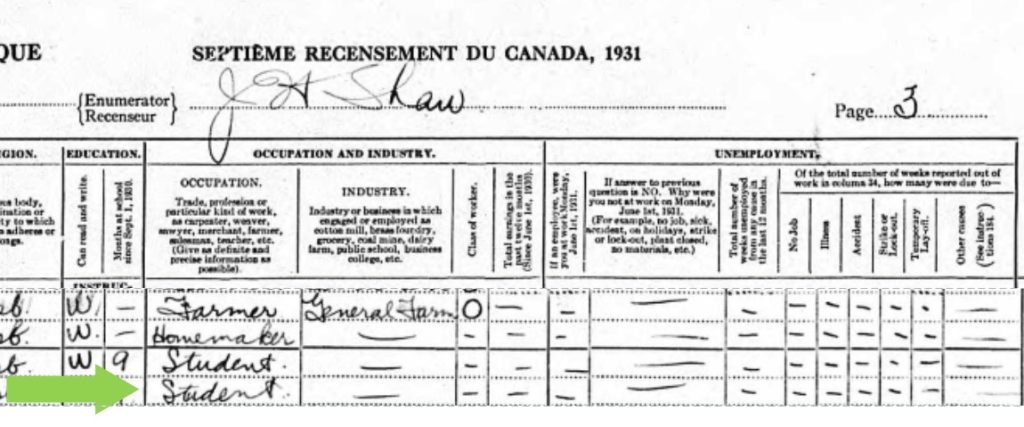 A love story or a scandal?
So what makes this scandalous? My grandmother Margaret was only 13 when she met my 29 year old grandfather. That's one heck of an age gap!
Oh sure, she could've just been a school girl living in the same area he was working, but they were married within the next 3 years. My grandmother was 16 and lied to say she was older so they could get married.
And as a further scandal – my oldest uncle was born 5 months later!
Having known my grandmother and her fun personality, I can picture her falling in love with Albert and not taking no for an answer. I picture her wearing him down until he finally agreed to marry her. He was a handsome man after all – who can blame her?
I don't hold their ages against them. From everything I've been told, my grandmother was smitten with her husband Albert. They had 9 living children and stayed married until his early death in 1960, long before I was even born.
They had a family and a farm with lots of animals – every kind if you talk to my father. There was love there. I'm sure of it.
Today, I salute the scandal that helped shape my family and the love that brought these two together. Much love to Albert and Margaret whose spirits are together again.