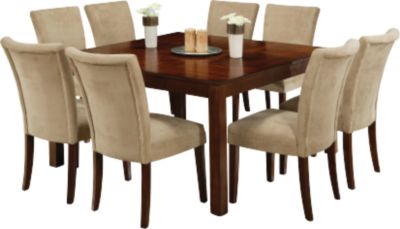 We found a table!!!!
This means that we are now set. We are hoping that everything will go together when all is said and done.
I couldn't completely find a picture of just the table, so have a look at a similar table here.
We figure the table is dark enough that it will work with the black chairs that James' parents got us for Christmas. And it meets his requirements of being wood and dark. It's pretty much the same colour as our bar stools that are pictured in the blog post below. This table might not be the best representation. The table has a leaf attached to the it that hides underneat
h. The leaf makes the table square and without it, the table still would seat six people. Looking at the scale of the room, I really want to have it open. James thinks the opposite. We'll see who wins this war!
James is still really gung ho for appliances! Every day after work he wants to make it his mission to find a good deal on a big scale. I'm looking forward to having the next two days off!
Heading into 2009 I feel very good and confident that our house will look awesome!